Hot Selling Wood Pellet BBQ Grill Design for Sale





Specifications:
1. Delicate design, Easy operation
2. Best quality, Competitive price
3. OEM ODM


Features:
1. Heavy 2.0mm thickness construction.
2. Large capacity grilling space.
3. Heavy 2.5mm thickness drip pan and heat deflector.
4. Dual racks with a combined grilling surface of 620 sq. inches.
5. New fully digitally controlled, push button controller for smoking. Grilling temperature range of 180 400 degrees F.
6. Extra outside rack and a shelf are convenient places for your grilling accessories.
7. High quality casters and wheels are attached to heavy gauge round legs for a stylish appearance.
8. Heat resistant, powder coated finish and porcelain covered grill racks.
9. Double grills add more than half cooking surface, and make it accommodate more food.
10. Electronic auto start ignition, automatically start Auger-fed burner, Automatic fuel feeding
11. This is designed to circulate hot, smoky air around the food, cooking it evenly on all sides. Forget the hassles of assembling a rotisserie or the constant turning of your food to make sure that it is cooked evenly on all sides. Convection technology combined with hardwood fuel makes your barbecue experience flavorful and simple.
12. The special fuel: All Wood Pellet reduce the carbon footprint and are made from 100% natural material. That means nothing harmful is cooking your food. We carefully control the quality and purity of our raw material supply, has never been processed or recycled.

Compare with others

Using Wood pellet grill is different from other barbecue way. The Wood Pellet and the indirect barbecue make it closer to nature. High temperature of the charcoal baked food will have a kind of good smell. So, it's more special than electricity grilling, gas grilling, charcoal grilling and the others.

-Electricity grilling is actually convenient, simple operation and easy cleaning. But it has no fire, no wooden fuel, and no nature. Its defect is to let people eat smoked flavor weak. So the taste can't enjoy grilled special wood flavor.

-Gas grilling is convenient too. But natural gas cannot ensure the purity of 100%, which will be mixed with some possible unsaturated hydrocarbons and impurities, will produce harmful gas such as CO. So it makes cook have harmful risk and it has no grilled special wood flavor too.

-Charcoal grilling is more close to nature, but it fire trouble, cleaning is also very troublesome.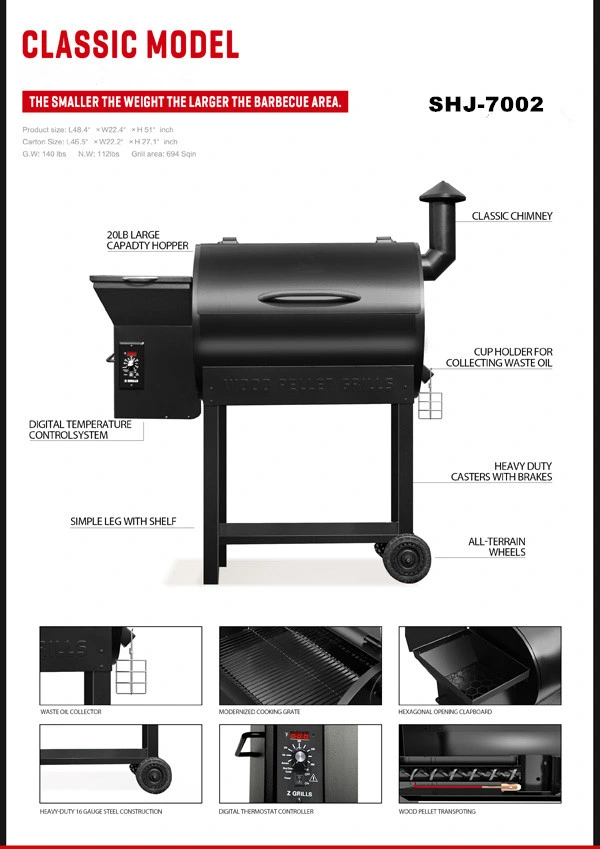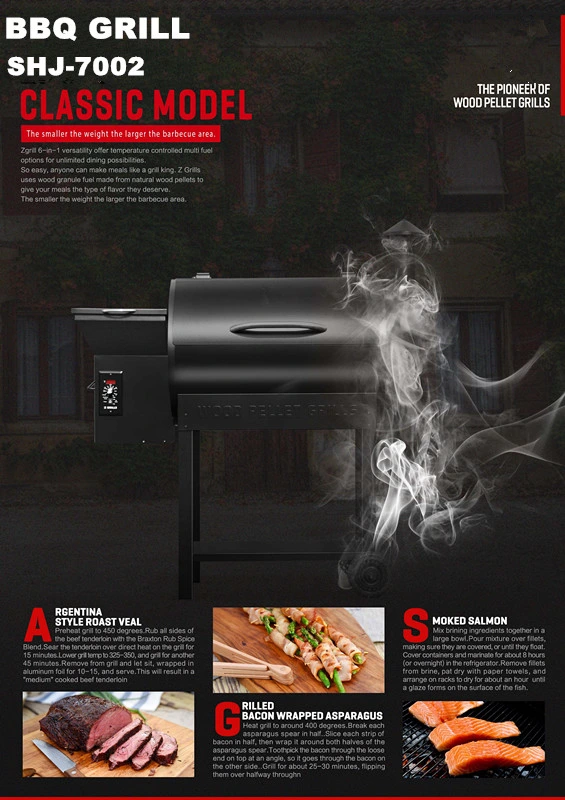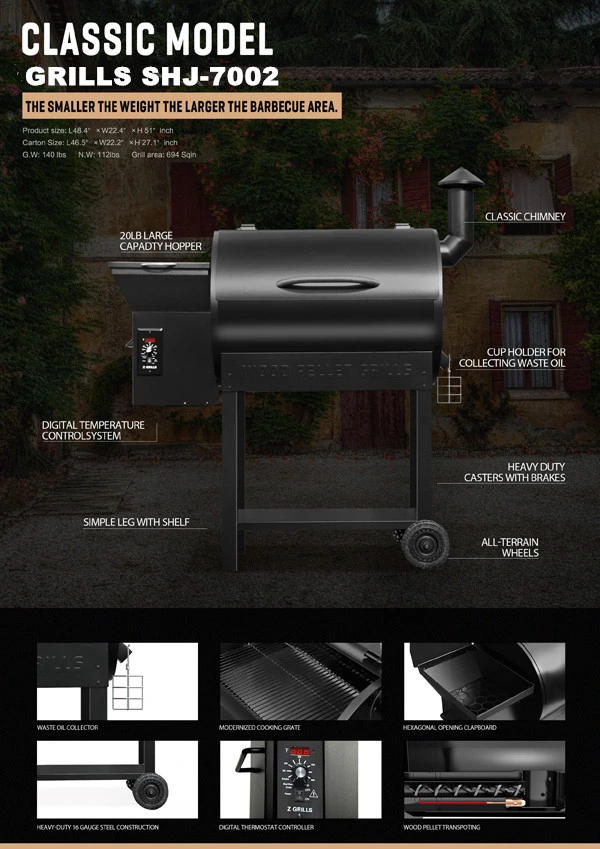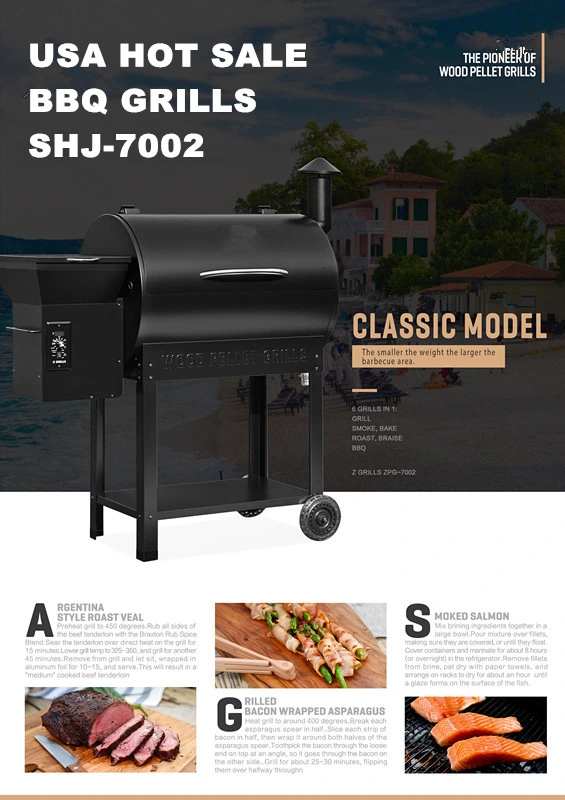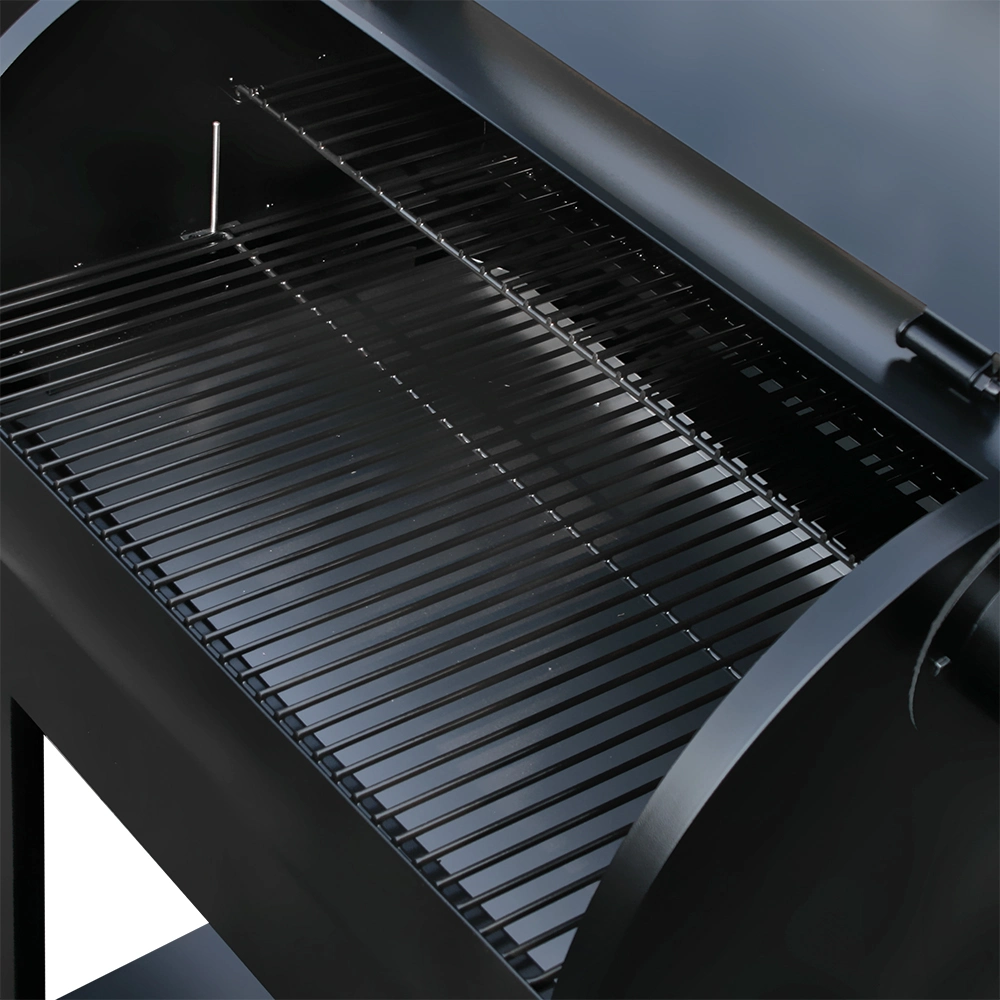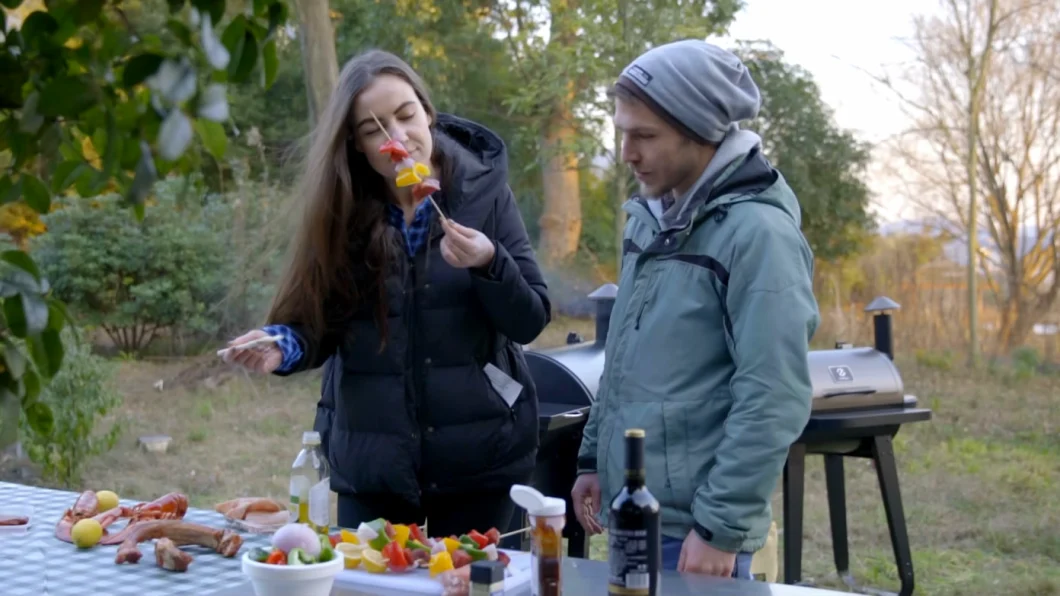 | | | | |
| --- | --- | --- | --- |
| Specification | MODEL: SHJ-700C | SHJ-7002 | SHJ-450A |
| Grill Area | 694 Sq. In. | 694 Sq. In. | 462 Sq. In. |
| Hopper capacity | 20 lbs | 20 lbs | 15 lbs |
| G.W. | 172 lbs | 138 lbs | 106 lbs |
| N.W. | 146 lbs | 112 lbs | 88 lbs |
| Grill dimension | 48 In.L.x 22 In.W.x 51In.H. | 48 In.L.x 22 In.W.x 51In.H. | 45 In.L.x 28 In.W.x 49In.H. |
| Controller style | Digital controller | Digital controller | Digital controller |
| Electricity Rate | 110V/60Hz/250W | 110V/60Hz/250W | 110V/60Hz/250W |
| Storage cabinet | 5400 Cubic In. | N/A | N/A |
| Casters | heavy duty | heavy duty | heavy duty |
| warranty | 3 years | 3 years | 3 years |
| Quantity for 40' HQ | 120sets | 160sets | 230sets |