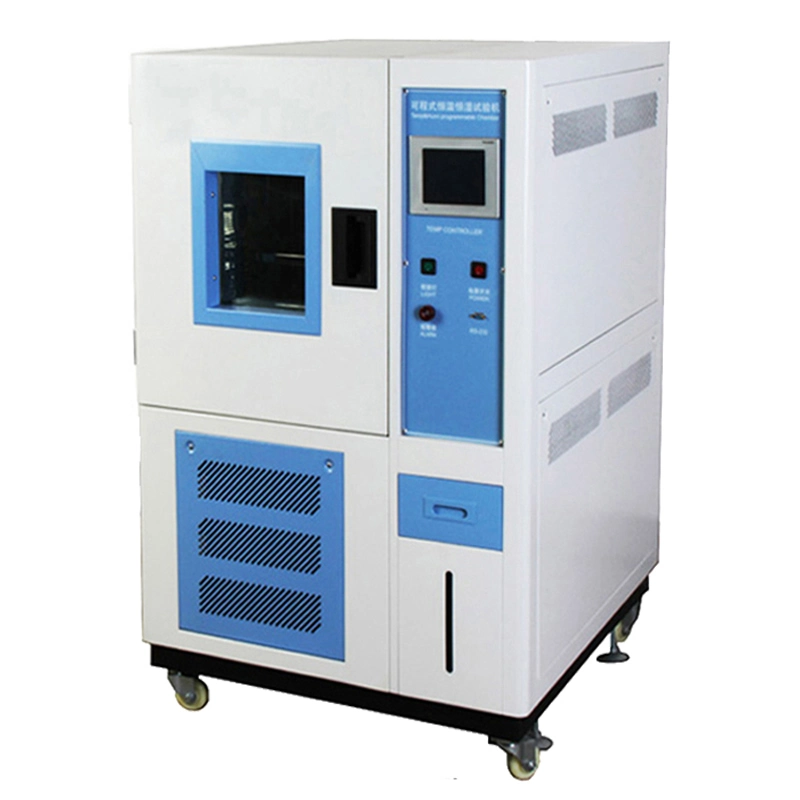 Temperature Humidity Test Machine/Programmable Temperature Humidity Test Chamber
Description:
TR-LY-2150 Temperature Humidity Test Machine can simulate different environment condition. It's appropriate for testing material performance, such as resist heat, resist dry,resist humidity and resist cold. That can define performance of material.

Features:

1. TR-LY-2150 Temperature Humidity Test Machine Use the high precision microcomputer touch temperature and humidity controller with high stability of platinum resistance to temperature and wind speed in the circulatory system of temperature and humidity test.
2. TR-LY-2150 Temperature Humidity Test Machine control temperature&humidity well-distributed, precisely and steady.
3. TR-LY-2150 Temperature Humidity Test Machine Completely independent system separate for testing in high temperature, low temperature and constant temperature&humidity environment.

Specification:
Mode

TR-LY-280

TR-LY-2150

TR-LY-2225

TR-LY-2408

TR-LY-2800

Inner Size

W×H×D(cm)

40×50×40

50×60×50

60×85×80

60×85×80

100×100×80

Outside Size

W×H×D(cm)

93×155×95

100×148×106

117×166×91

140×176×101

170×186×111

Volume (V)

80 L

150L

225L

408L

800L

Temp and Hum Range

A:-20°C~150°C B: -40°C~150°C C: -60°C~150°C D: -70°C~150°C RH20%-98%

Function

Fluctuation

±0.5°C ±2.5%RH

Deviation

±0.5°C-±2°C ±3%RH(>75%RH); ±5%RH(≤75%RH)

Controller Analytical

Accuracy

±0.3°C ±2.5%RH

Material

Inner Wall

#SUS 304 Stainless steel

Outer Skin

#SUS 304 Stainless steel

Heat Preservation

High temperature resistant,

high chlorine acid b vinegar foam insulation materials

Wind Cycling Way

Centrifugal fan-broadband type forced air circulation

Refrigeration Way

Single stage compression refrigeration

Refrigerater

French Tecumseh

Refrigerants

R4O4A USA Dupont environmental protection refrigerant(R23+R404)

Condensing Way

Air-cooled or water-cooled

Heater

Nickel chrome heating wire heater

Humidifier

Semi-closed steam and wet

Water Suplying Way

Automatic cycling water supply

Standard Accessories

1 Observe window(double-deck cavity toughened glass),

1 50mm test hole in the left,

1 PL inner chamber lamp,2clapboards,

1 bag of wet and dry bulb,3 fuses, 1 power line.

Safety device

Non- fuse-switch(compressor overload, refrigerant high low voltage,

over humidity and temperature protection,

Protection switch,fuse stoppage warning system

Packing: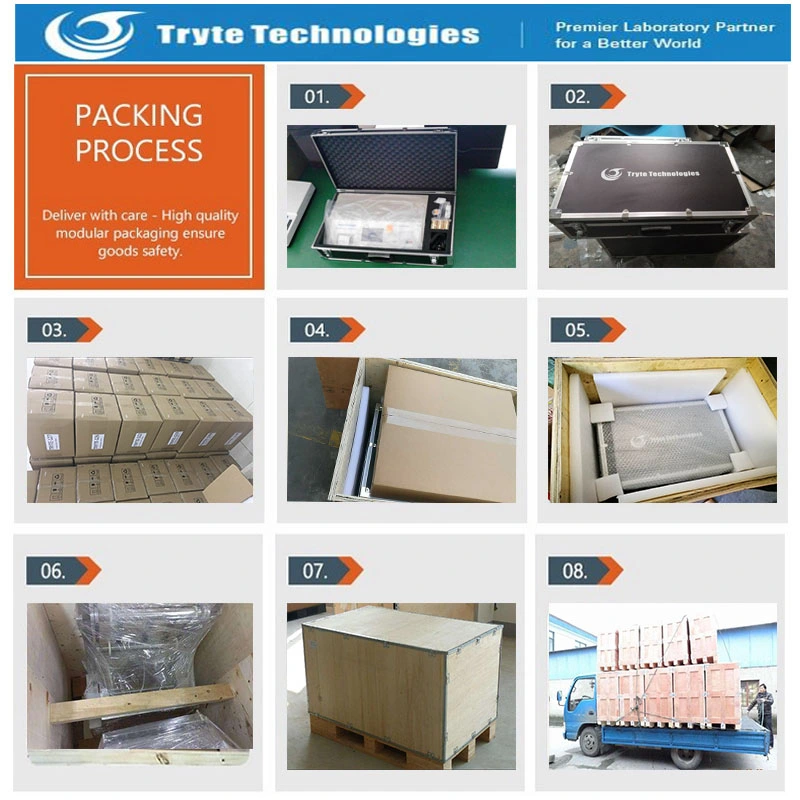 Company Information:
As a diversified manufacturer of high-tech products, it was founded in 1999, and devoted to the products, sales and technical service for various industries and fields like Energy analysis instrument, Oil, coal, steel, and geology; medical analysis and application instruments, biochemistry analyzer, elisa reader, blood analyzer,and urine; as well as laboratory application instruments,autoclave/sterilizer,freeze dryer, incubator,drying oven,balance,ICP,DRS,HPLC,gas chromatography,and spectrophotometer,meanwhile,TRYTE Technologies integrated and purchased some companies of PCB board, highway instruments at home and abroad. Our company has become the "one stop" instrument procurement service provider worthy of the name.
TRYTE technologies (TRYTE) mainly sell products by selling direct to customer, but also through distributors, resellers and manufacturer representatives, telephone sales and e-commerce sales, customers cover all over 80% of the world's countries and regions.TRYTE have solutions with rules adaptability according to the specific requirements of the design, from the instrument to some laboratories or departments.Whichever kind of solution you choose, you can fully trust it, because it is proved from 100, 00 successful results, leading development process, and decades of actual certification experience.
Why choose us?
1. We supply high quality products with reasonable price.
2. We are the professional manufacturer;
3. Advanced production machine;
4. Strict quality control system;
5. Ten people research&develop team;
6. We have professional sales team;