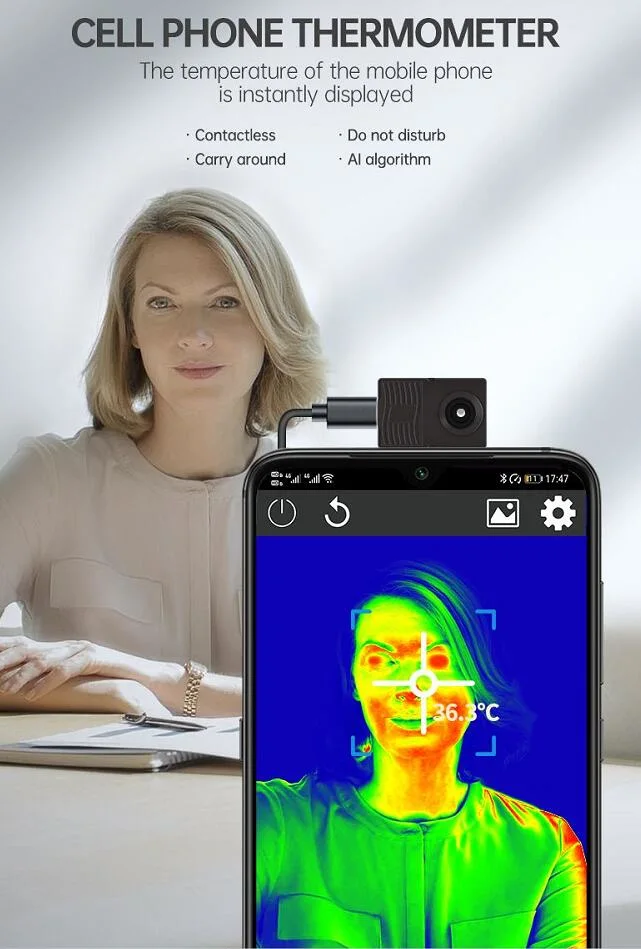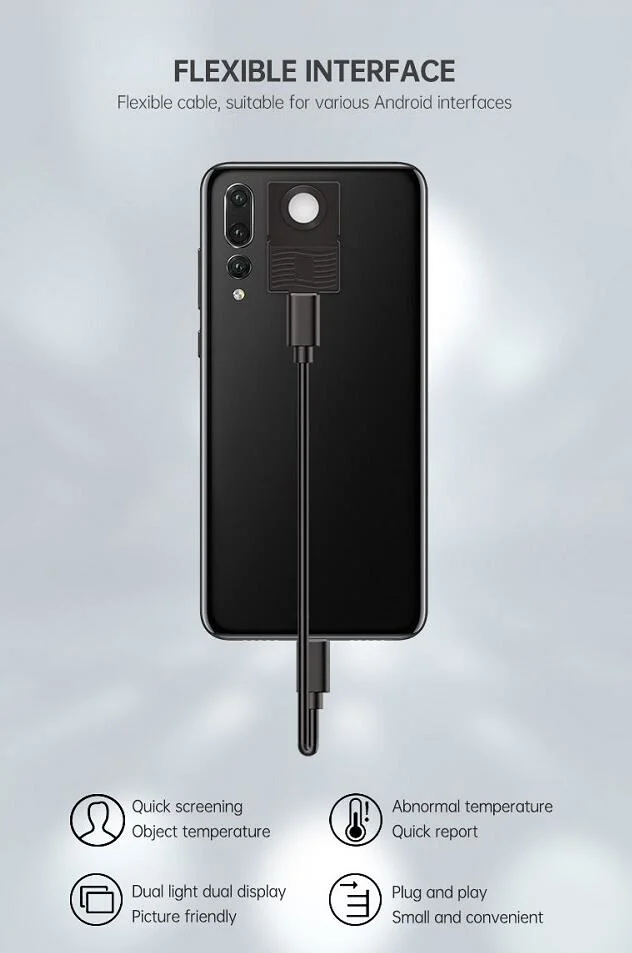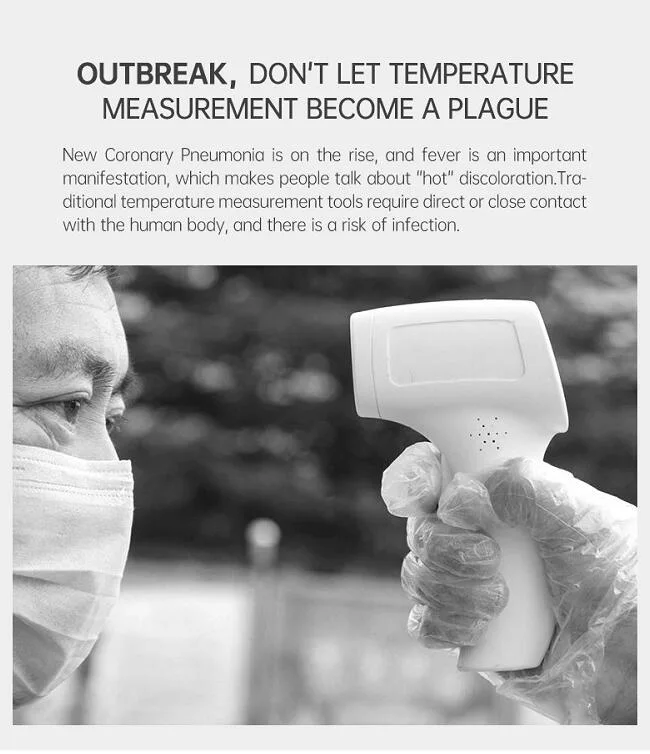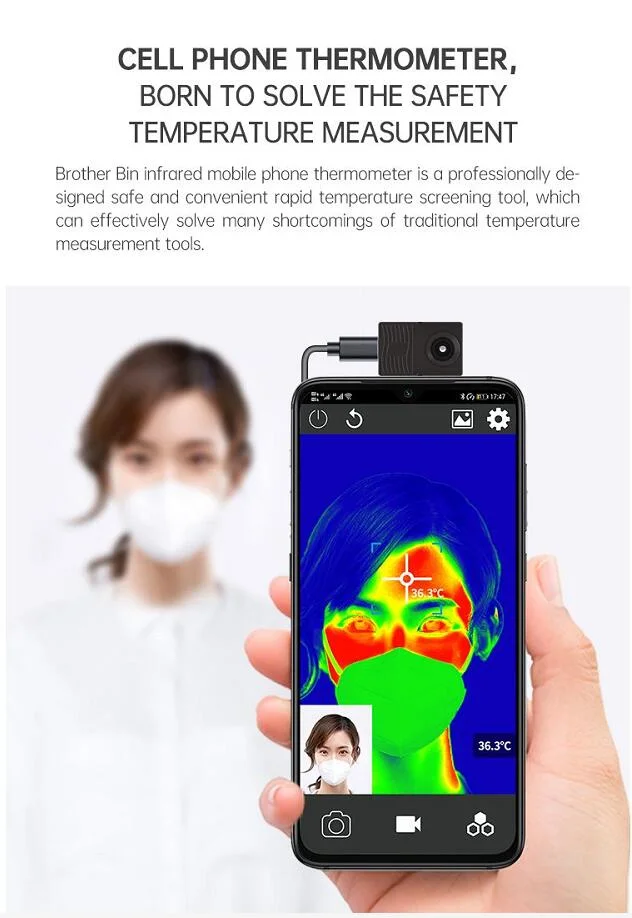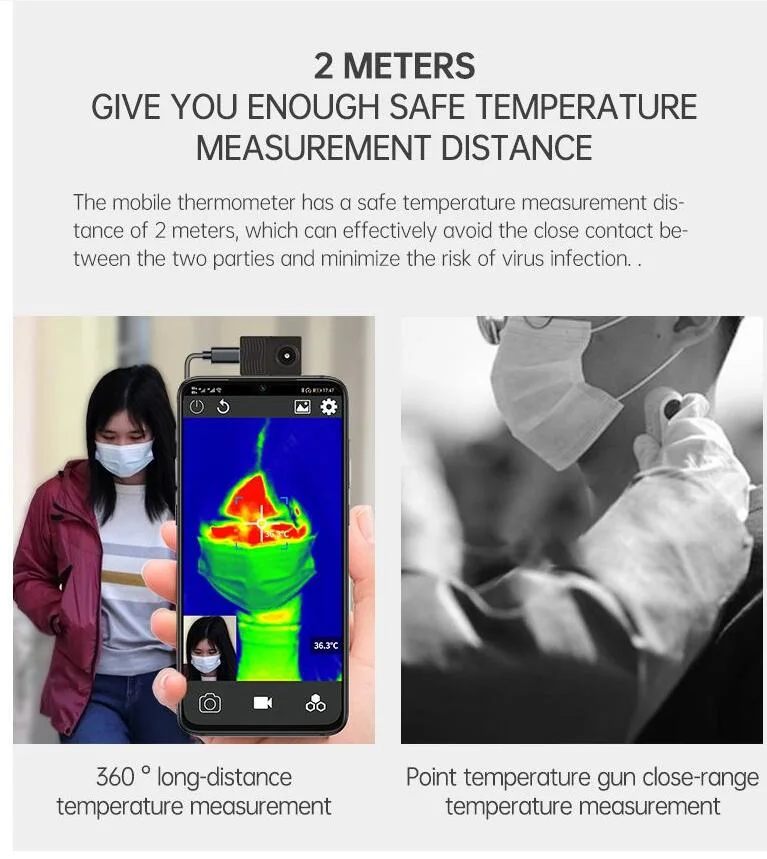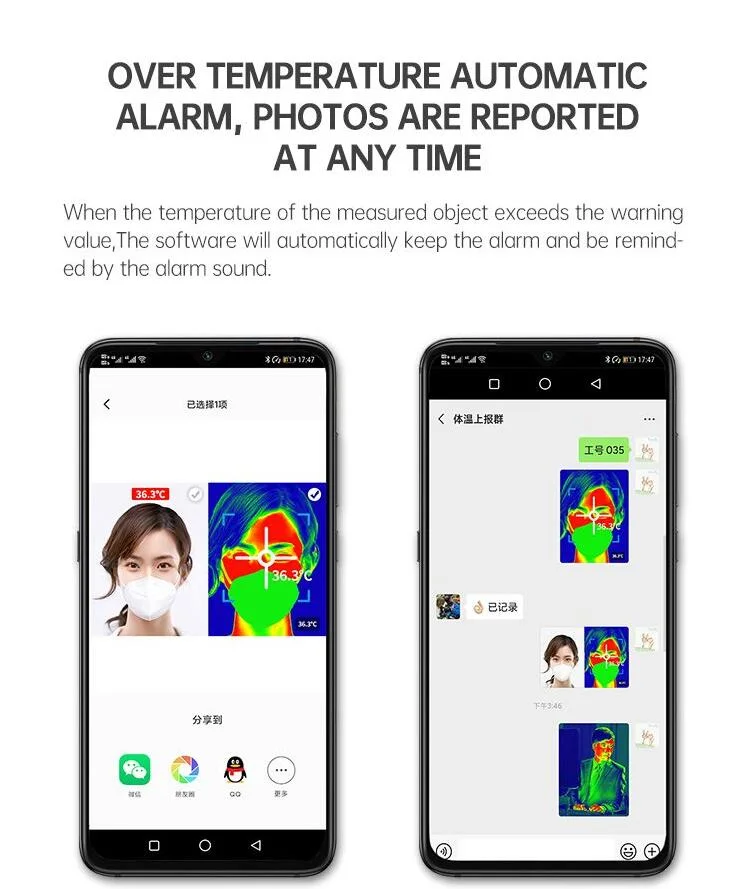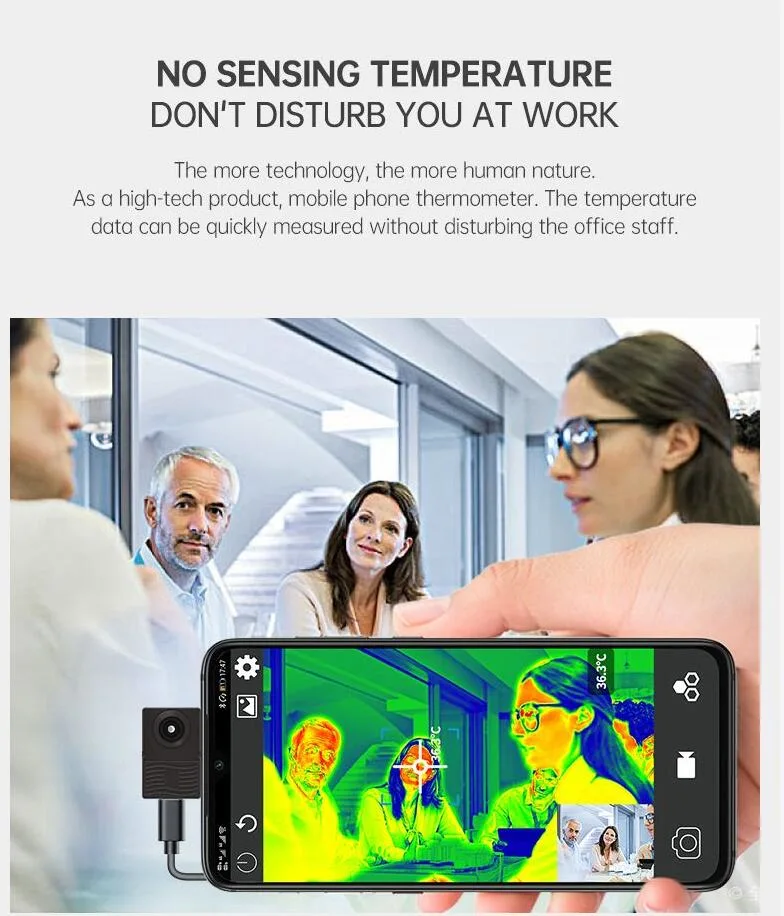 Infrared Cameras
Thermal imaging cameras, like those manufactured by Optotherm, operate in a similar manner to ear thermometers. However, whereas ear thermometers can only measure the temperature at a single spot, thermal imagers can measure the temperature at tens of thousands of spots that together create a thermal image, as shown below. Like ear thermometers, thermal imagers are passive devices and emit no harmful radiation.
There are two primary detector technologies used in thermal imaging cameras for human fever screening; medium and long wave. Medium wave infrared detectors are sensitive to electromagnetic energy that is 3 to 5 microns (0.003 to 0.005 mm) in wavelength. Long wave infrared detectors are sensitive to electromagnetic energy that is 7 to 15 microns in wavelength. As shown in the graph above, there is a peak wavelength of emitted energy for each specific temperature and the peak wavelength increases at lower temperatures. The peak of emitted energy for objects at human body temperatures is approximately 9.5 microns in wavelength. For this reason, Thermoscreen was developed using long wave detector technology to take advantage of the increased sensitivity these detectors provide when measuring the temperature of human bodies.
Product Features:
1. ≤0.3ºC accurate temperature measurement
2. Over-temperature alarm
3. Non-contact detection
4. Intelligent face recognition
5. Mask abnormality detection
6.AI data analysis

Product Features:
1. Face recognition thermal imaging, mobile thermal imaging and other methods to achieve a non-contact rapid temperature detection and management platform.
2. It can monitor the temperature of high-volume people at the same time, and can measure no less than 20 people at the same time. Real-time analysis of the over-temperature target shows the left traces and sound and light alarm.
3. The crowd in the face database (30,000) is automatically recognized, and the non-face database crowd captures the face in real time, and the specific face database crowd is captured and alarmed.
4. 24 hours uninterrupted work, real-time display of temperature and high temperature alarm times and has the function of classification and statistics.
5. Accuracy of body temperature detection: temperature accuracy within 0.3 degrees; face recognition distance is 2.5 meters or more; face recognition accuracy rate is above 99.8%.
6. Body temperature detection speed: single-channel face recognition speed: no less than 30 faces per second.
7. Powerful cloud SAAS big data platform, real-time remote viewing, early warning, reporting and monitoring of data.
8. Quick deployment, real-time blackbody radiation source correction without being affected by the environment, ensuring temperature measurement accuracy.
Guide D Series Advanced Thermal Camera with 384x288 IR Resolution, MIF Image Enhancement and IP54

Intelligent Operation Affordable Price


Product Description

As Guide Infrared's newly launched thermographic IR camera, D series continues Guide's tradition of offering both high-quality and innovative features. D series' highlights lies in its rugged and ergonomic design. More than that, its brief operation interface and intelligent button navigation would make the first time user feel as an expert. D series are equipped with optional lens set for different FOV requirements in different occasions. With built-in illuminator, you can easily take visible photos and compare them with IR photos, which help you find problems more easily.


Application Field
Electrical Inspection
Petrochemical Inspection
Metallurgy Inspection
Manufacturing Control
Building Inspection
Medical Diagnose & Veterinary
The Guide B384F thermal cameras are used for finding the invisible issues, take accurate temperature measurement and confirm repairs were succeed with the help of the 384*288 infrared resolution and Guide multi-spectral dynamic imaging enhancement technology.
Features and BenefitsErgonomic design
· Ergonomic design, comfortable grip for a long time
· Exquisite appearance and strong structure,2m drop test certificate
· Lightweight about 800g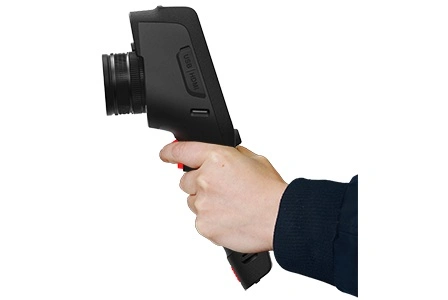 4"high light touch screen, easy to operate
· With 800×480 resolution 4" high light touch screen
· Adjustable brightness, still clear under sunshine
· Easy operation with step by step professional instruction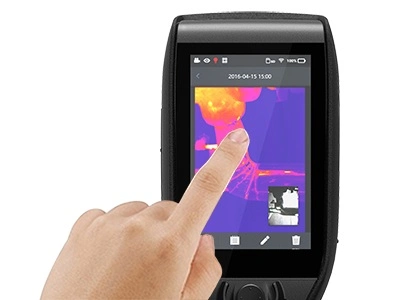 Android operation system & Wi-Fi communication
· Images and videos can be transferred to Wi-Fi equipped mobile terminals for further analysis
· The onboard analysis report can also be printed instantly on a Wi-Fi printer
· Connected with mobile terminal to take IR photo, to achieve multi screen control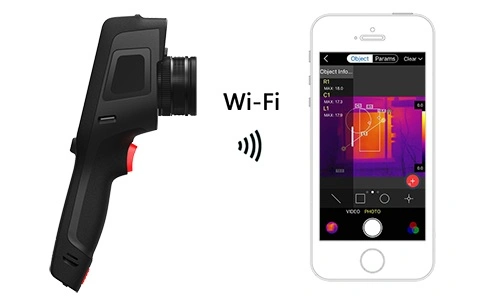 Adapt to different occasions
· Three types--192×144 and 384×288 IR FPA detector, automatic and electric focusing
· Four image presentations--IR, visible, PIP and MIF
· Buckle type lens--tele lens, wide lens, high temperature filer lens can be changed directly in different occasions
· Large capacity battery--four hours of operating time with two batteries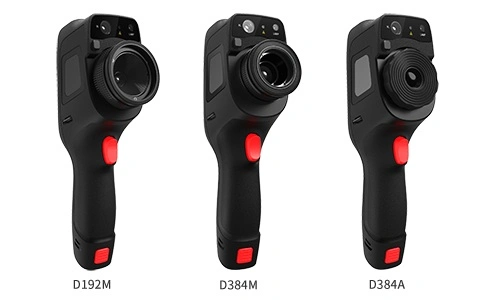 Accessories
· Standard accessories: Thermal imager/ lithium battery/ adapter/ USB cable/ wristband/ HDMI connecting line/ CTP gloves/ quick operation guide/ specification/ compact disk/ list of accessories/ TF card (16GB)
· Optional accessories: Lithium battery/ portable package/ charging dock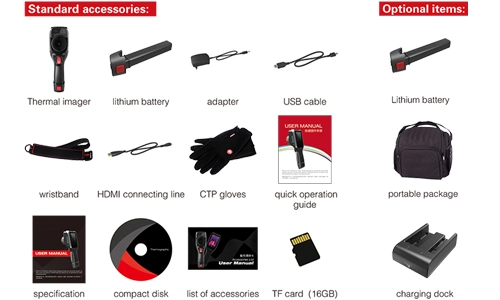 IR Analyzer on PC
Images capturing by an infrared camera is only the first step of an infrared inspection. Guide IR Analyzer will help you accomplish the full inspection process until a professional report is submitted.
· Various images and videos resources
· Image processing
· Video analysis
· Preference settings
· Report generation in PDF or WORD format
App on mobile terminal
You can import images or videos to the mobile devices, process and analyze on them to get an immediate report, or you can also share the results with your fellows or decision makers. With the APP installed on the mobile devices, you can also free your hands during the inspection to get some relief. The APP will support you to accomplish all basic operations on the camera, such as focus, shutter action, electronic zoom, palette shift, image modes shift etc.
Parameter
the parameter for Handheld Thermal Imager Guide D Series:
D Series
D192F
D384F
D192M
D384M
D384A
Imaging Performance
IR resolution
192×144
384×288
192×144
384×288
384×288
NETD
50mk
45mk
50mk
45mk
40mk
FOV
37.8°×28.8°
28.4°×21.5°
37.8°×28.8°
28.4°×21.5°
35°×27°
Min focus distance
1m
1m
0.5m
0.5m
0.4m
Focal length
7mm/F1.1
19mm/F1.0
7mm/F1.1
19mm/F1.0
15mm/F1.1
IFOV
3.45mrad
1.29mrad
3.45mrad
1.29mrad
1.60mrad
Lens identification
N/A
Automatic/ Manual
N/A
Frame rate
60Hz/50Hz (30Hz/25Hz)
Focus
Fixed
Manual
Electric/ Automatic
Digital zoom
1.1~4
Detector
Detector type
VOx/ 8~14μm
Pixel size
25μm
Optional lens
Wide angle
N/A
N/A
N/A
57°×45°/8.8mm/F1.0/0.3m/2.65mrad
N/A
Tele
N/A
N/A
14.4°×10.8°/19mm/F1.0/1m/0.65mrad
13.7°×10.3°/40mm/F1.2/1m/0.62mrad
N/A
High temp
N/A
N/A
Yes,650ºC~1500ºC
Yes,650ºC~1500ºC
N/A
Image Presentation
Display
4" highlight LED touch screen, 480×800, 24 bits
Image modes
IR image/ Visual image MIF/ PIP
Measurement
Temperature range
-20ºC~350ºC
-20ºC~150ºC,100ºC~650ºC,650ºC~1500ºC
-20ºC~150ºC,100ºC~650ºC
Accuracy
±2ºC or ±2% of reading for ambient temperature 15°C to 35°C and object temperature above 0°C
Measurement
Spotmeter:5; Line:2; Area:5
Auto tracking
1. Max/ Min temp spot of full screen;2. Max/ Min temp spot of analysis object
Alarm
Max temp alarm; Min temp alarm
Color Palettes
8:White Hot, Fulgurite, Iron Red, Hot Iron, Medical, Arctic, Rainbow 1, Rainbow 2
storage
Image storage
In camera and TF card, JPG with temp info
Video format without temp info
H.264 with frame rate 25Hz(audio signal included )
Video format with temp info
.irgd with frame rate 25Hz( audio signal excluded)
Video Streaming
Yes, transferred to PC or mobile via USB or Wi-Fi
Visual Camera
Visual Camera
Resolution:5MP/ 640×480, alternative; Fixed; FOV 25°×19°
Interfaces
Data communication interface
MICRO USB 2.0, MICRO HDMI, Power(12V), TF card(Standard 16G, up to 32G);WiFi/Laser
Bluetooth
N/A
Yes
Power system
Battery type/Operating time
Rechargeable Li-ion battery (7.4V), ≥4h; 4h in camera, 5h in dual-bay charger; Automatic shut-down and sleeping mode
Environmental Parameters
temperature range
Operating: -10ºC~50ºC; Storage: -40ºC~70ºC
Encapsulation
IP54
Shock
30g 11ms( IEC 60068-2-27 )
Vibration
10HZ~150HZ~10HZ 0.15mm ( IEC 60068-2-6 )
Certification
CE, FCC, ROHS
Weight
735g
735g
840g
840g
735g
Dimensions(mm)
274×97×78
274×97×78
274×106×78
274×110×78
274×91×78

Guide D Series Advanced Thermal Camera with 384x288 IR Resolution, MIF Image Enhancement and IP54