Description:
Large character LCD;
Multi-function;
Low power consumption;
High stability and accuracy.
Displays temperature, humidity and time
Maximum and minimum memory measurements;
12 hour / 24 hour display system
° c / ° F unit selection;
Clock and calendar features (months and dates)
Table place or hang on wall, put convenient
Product specifications:
Temperature range: -50 ~ +70ºC (-58 ~ +158 ° F)
Humidity range: 10%-99% RH (relative humidity)
Temperature resolution: 0.1ºC (0.1 ° F)
Humidity resolution: 1% RH
Temperature control accuracy: ± 1ºC (1.8°F)
Humidity accuracy: ± 5% RH (40%-80%)
Power supply: 1.5v * 1 (AAA type) (for battery)
Equipment size: 105 * 98 * 24 mm
Equipment color: white
Equipment weight: 114 grams
Packing weight: 150g
Package size: 175 * 128 * 34 mm
Operation method:
1. Push the battery door according to the direction indicated on the back of the machine, take out the battery spacer, then put back the battery door, and the machine can be used.
2. Button function :(MODE) switch the display MODE of clock and alarm clock/set the current time, alarm clock, 12 or 24 hour system, date (ADJ) adjust the value of the project;Display the maximum/minimum temperature and humidity in MEMORY/the maximum/minimum temperature and humidity in MEMORY;Switch temperature units to display in ºC (Celsius) or oF (Fahrenheit);(RESET) clear all set/memory values and return to the initial state.
Press (ADJ) to adjust the number of minutes. Press (MODE) continuously to set "clock", "12/24", "month (M)" and "day (D)" respectively.
4, in the current clock MODE, (clock and minutes between two flashing once per second) switch display for the Alarm clock MODE (clock and minutes between two points is not flashing), according to the (ADJ) at this time you can switch "Alarm clock" (Alarm)/" hour "() function of open and close, and hold (MODE) for 2 seconds, can set the Alarm time, start" the hour "function at the same time, () symbol.
5. In the alarm mode, if there is no operation, the current clock will be returned automatically after one minute. At this time, press (ADJ) to switch to calendar display.
Press and hold for more than 2 seconds to clear the maximum/minimum MEMORY.

Notes:
1. Press RESET (on the back of the machine) when using/replacing the battery for the first time;
2. Press RESET once if any defect occurs to the machine.
3. Please return the batteries to the designated place by the government after they are used up
[suitable indoor temperature and humidity environment in summer
The most suitable indoor temperature in summer is 23ºC to 28ºC, humidity is 30%RH to 60%RH.Most people in this range are comfortable.In the air-conditioned room, people feel most comfortable when the room temperature is 19ºC to 24ºC and the humidity is 40%RH to 50%RH.If the influence of temperature and humidity on people's thinking activities is considered, the optimal indoor temperature should be 18ºC, and the humidity should be 40%RH to 60%RH. At this time, people are in good mental state and have the most agile thinking.
suitable indoor temperature and humidity environment in winter
Winter temperature is 18ºC to 25ºC, humidity is 30%RH to 80%RH;Winter, indoor humidity is too big when, can accelerate heat conduction, make a person feels gloomy and cold, depressed.When indoor humidity is too low, the moisture of mucous membrane of upper respiratory tract is lost in great quantities, the person can feel dry mouth dryness, catch a cold easily.
If the humidity is insufficient, it is best to use the humidifier in time
Little knowledge about temperature and humidity sensor
As with the measuring range, the measuring accuracy is the most important index of the sensor.Every percentage point.For sensors, it's a step up, even a step up.Because to achieve different accuracy, its manufacturing cost varies greatly, the price also varies greatly.For example, a cheap imported humidity sensor costs only a few dollars, while a full humidity sensor for calibration costs hundreds of dollars, or nearly a hundredfold.Therefore, users must tailor their clothes to suit their needs, and should not blindly pursue "high, fine and sharp".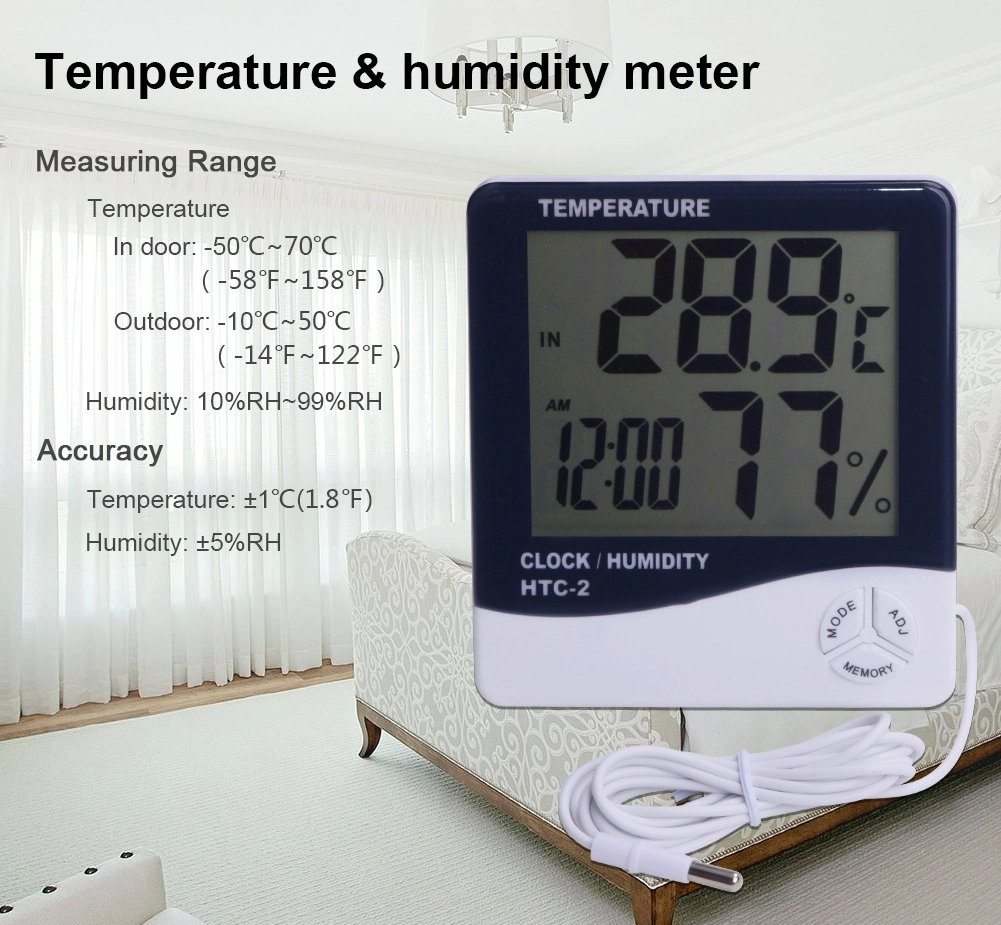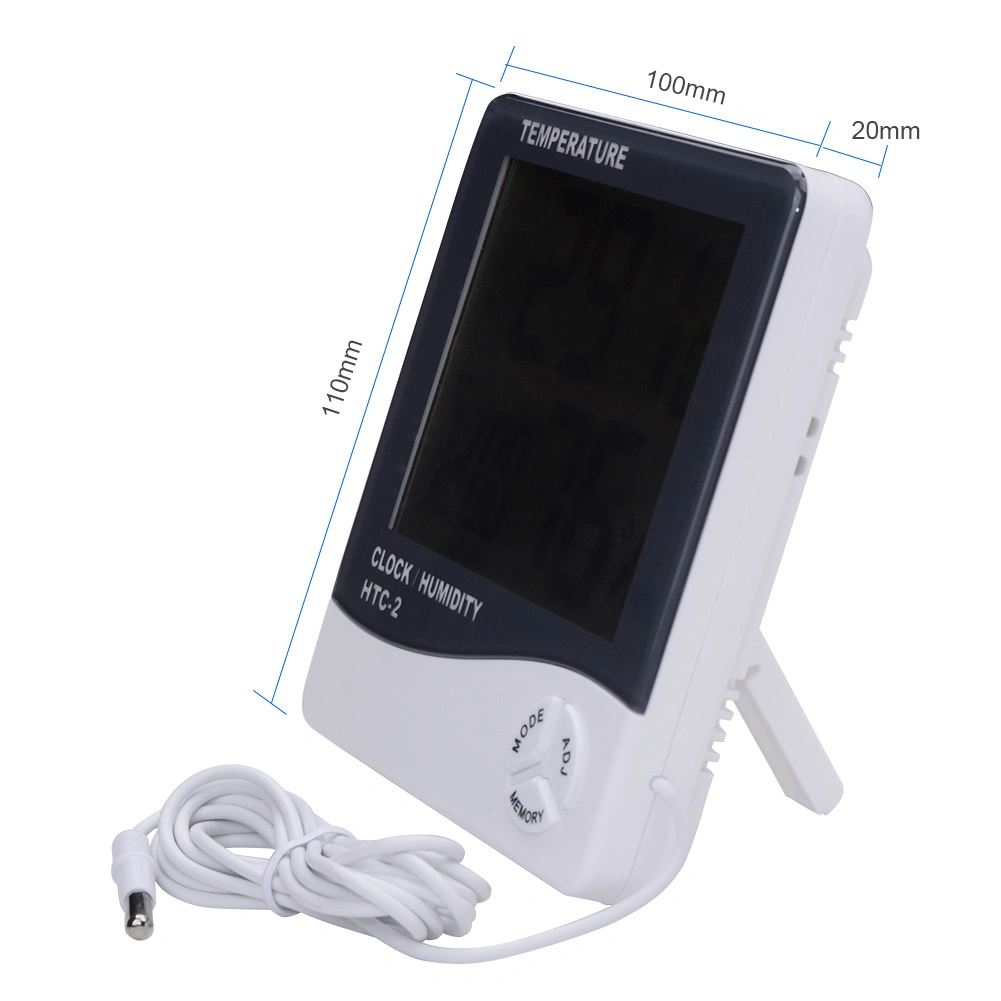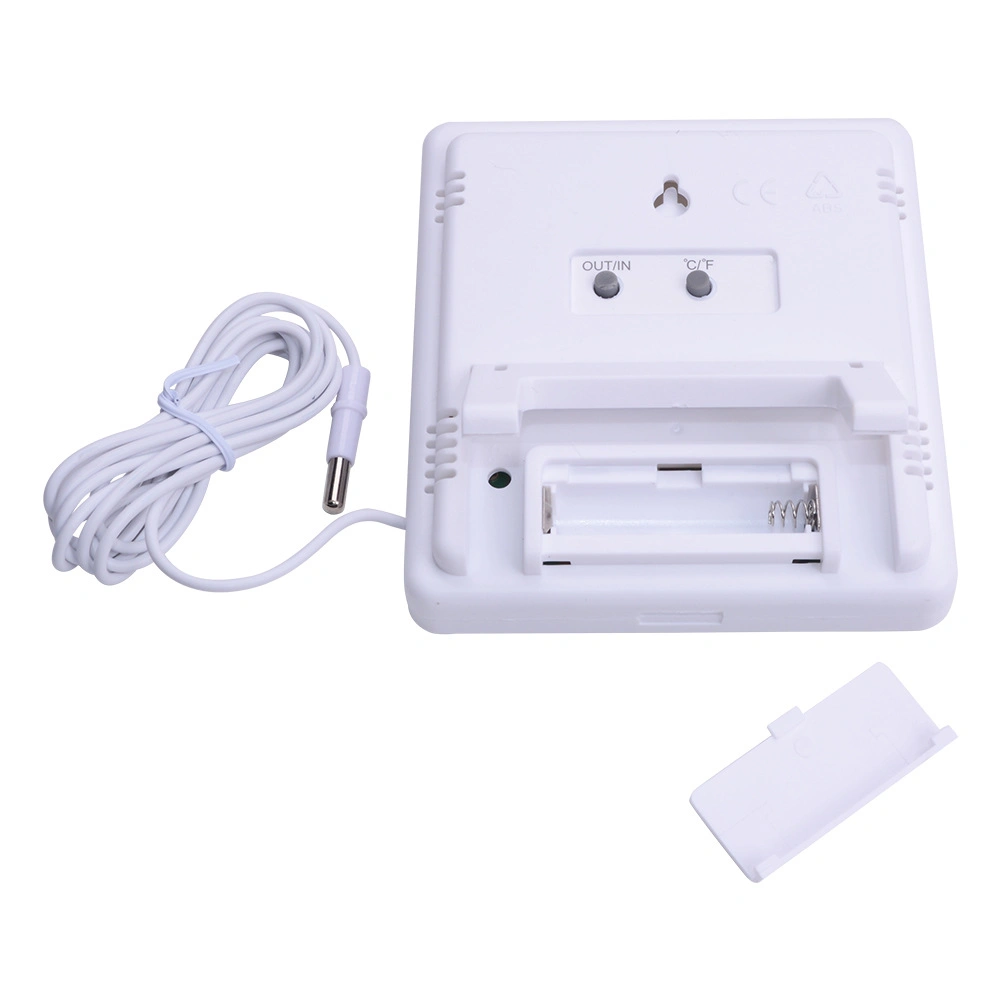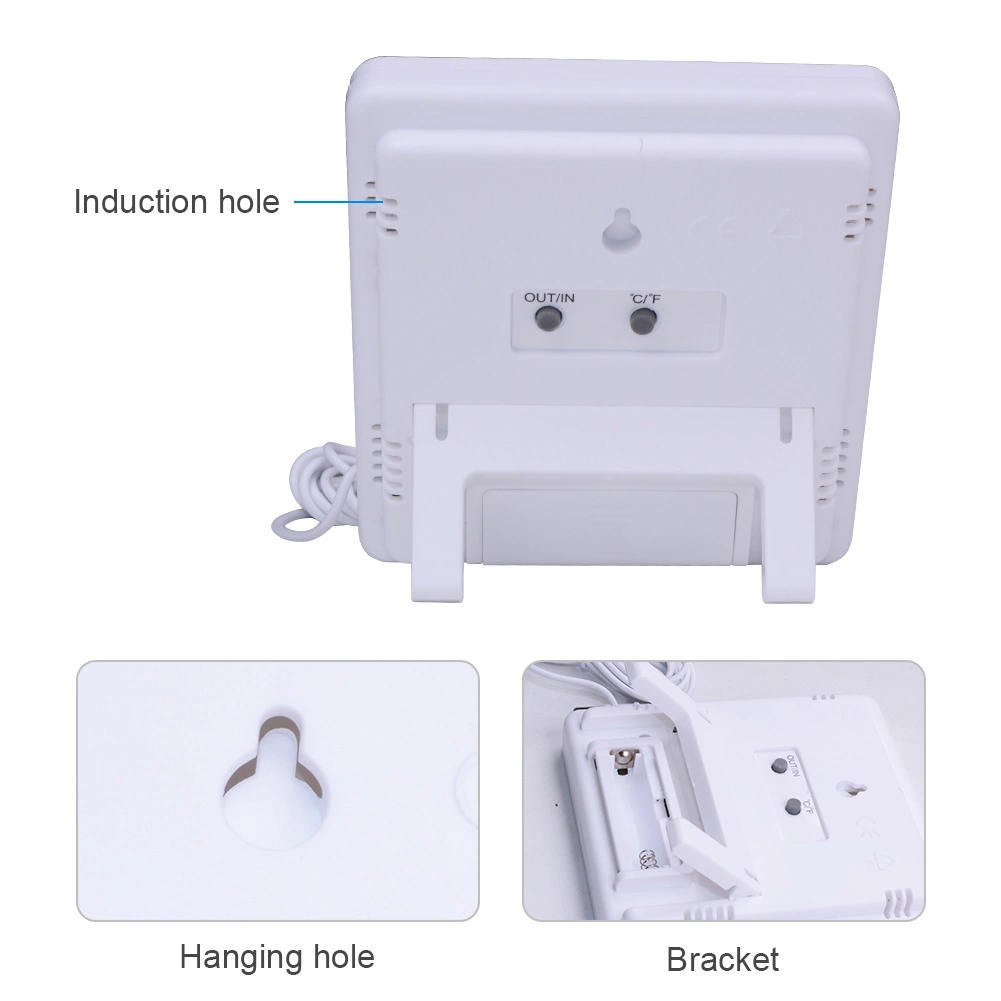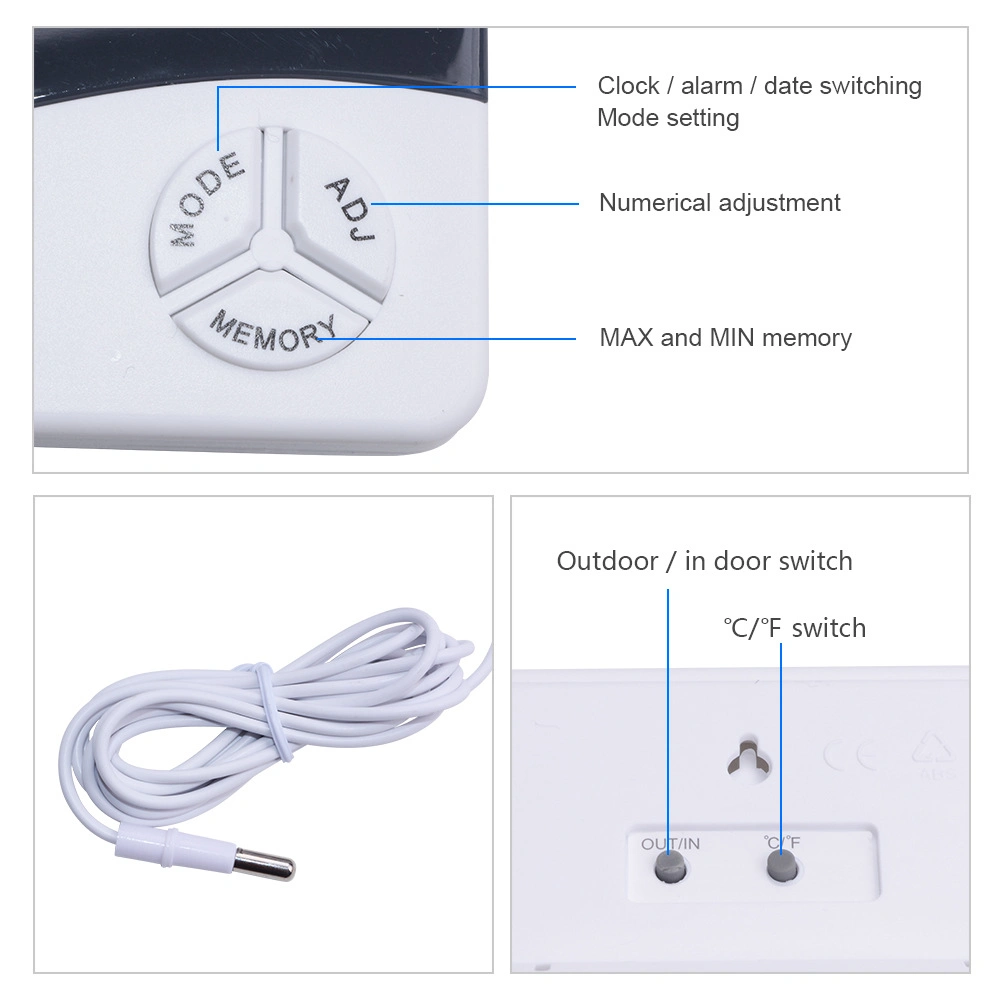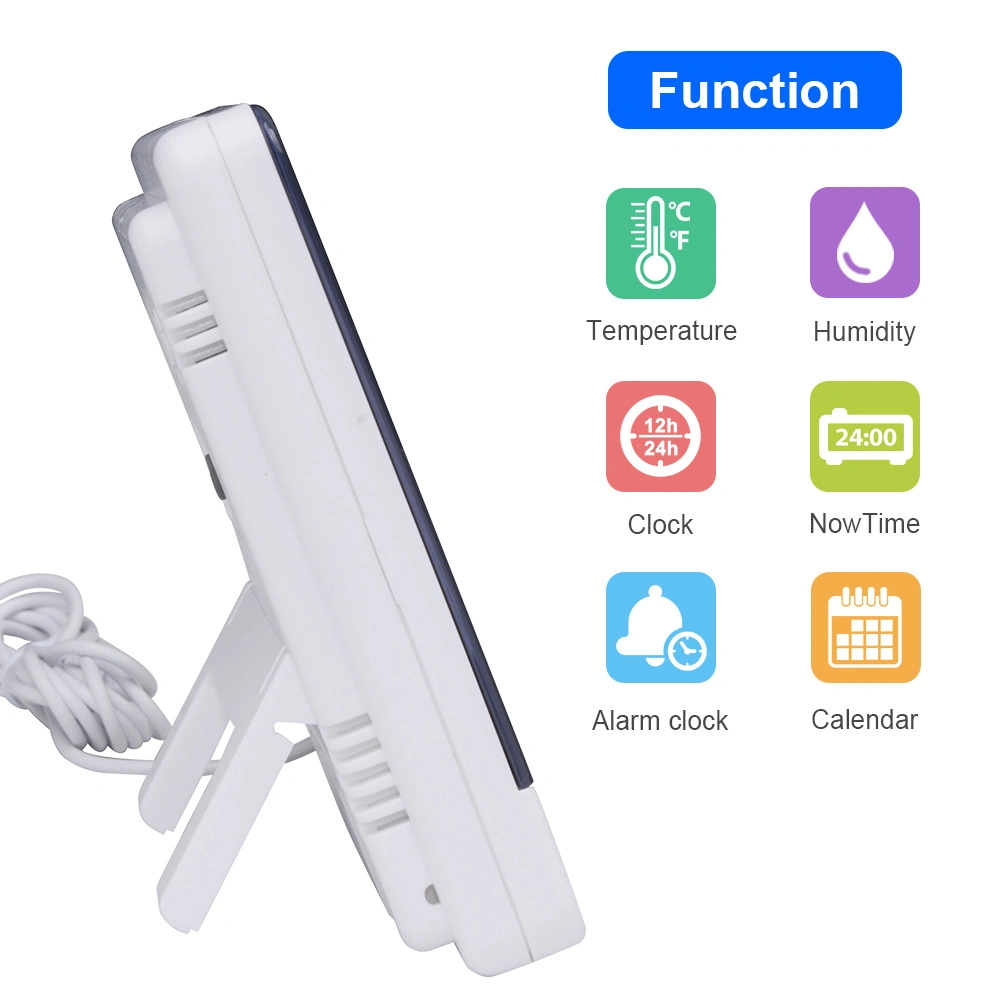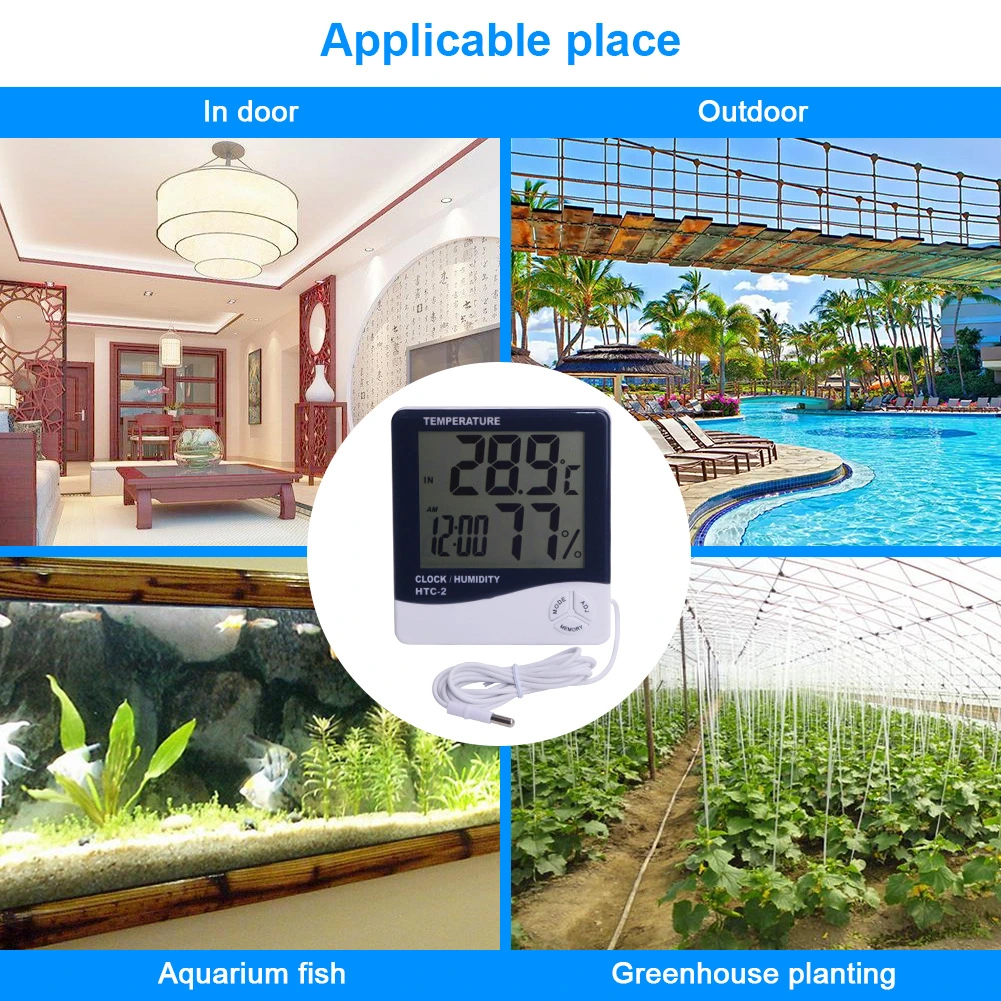 **After sales service*DELIVERY
1.Worldwide shipping(Except some countries and APO/FPO address)
2. The orders will be processed timely after payment verified
3. We only ship to confirmed address, your order address must match your recipient address,
4. We offer different kind of delivery ways,such as China-post airmail, e-packet, DHL and EMS.and other seller's Shipping Method,you can choose the delivery way according to your acceptable freight.
5. If you do not receive your package within 60 days from payment, just contact with us, we will check the shipment for you.
*RETURN & REFUND
When package arrive,please make sure the outside packing is in well condition,then,you can sign&accept the package.
You have 7 days to contact us and 30 days to return it from the date you received the package; If this item is in your possession more than 7 days, it is considered used and WE WILL NOTACCEPT YOUR REFUND OR REPLACEMENT
Defective item should be reported to us and returned to us within warranty period(better in original package). You must tell us what the defect is and the tracking number you send it back
4. Return shipping cost will be prepay by buyer.
5.We normally declare package with Lower Price or As A Gift for custom invoice to save extra taxes,if you have any special requirement about custom invoice, please let us know before shipment out from here
*About us
1.Our aim is Make Every Buyer Satisfied with our products and service
2. We provide both Drop shipping and wholesale, if you are interested in those, contact us freely by leaving a message,or trade manager,visa SKYPE,WE CHAT,WHATSAPP
Our online service time is:
Beijing 8:30-1230
14:00-18:00
Moscow
03:30-07:30
09:00-13:00
New york 02:00-06:00
20:00-00:30
London
00:30-04:30