Automatic Face Recognition Access Control Infrared Thermometer with Temperature Sensor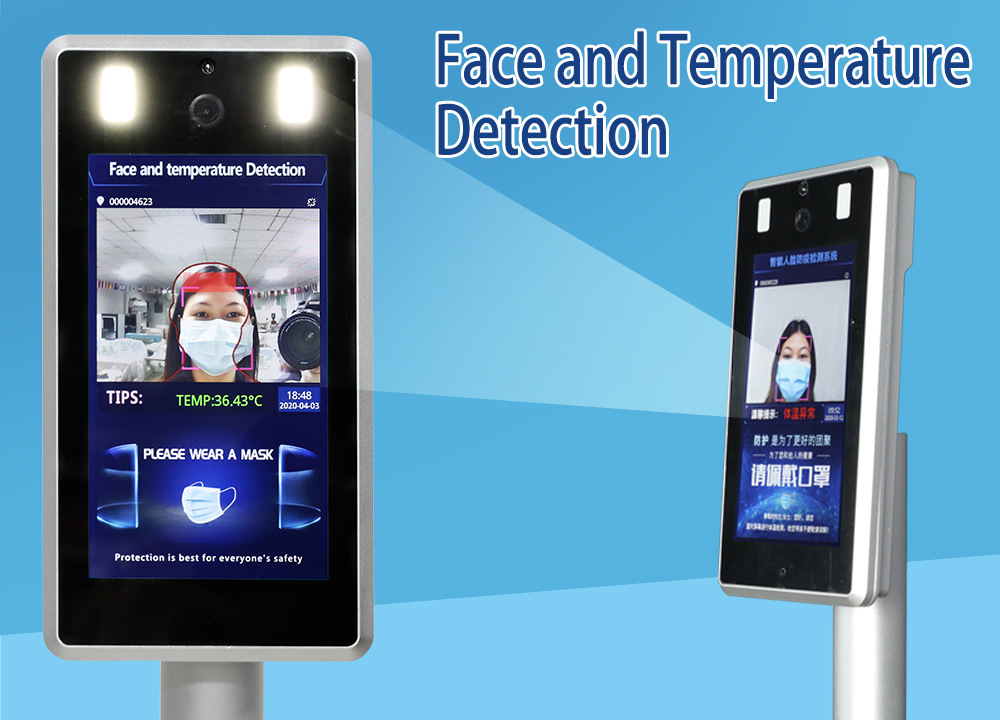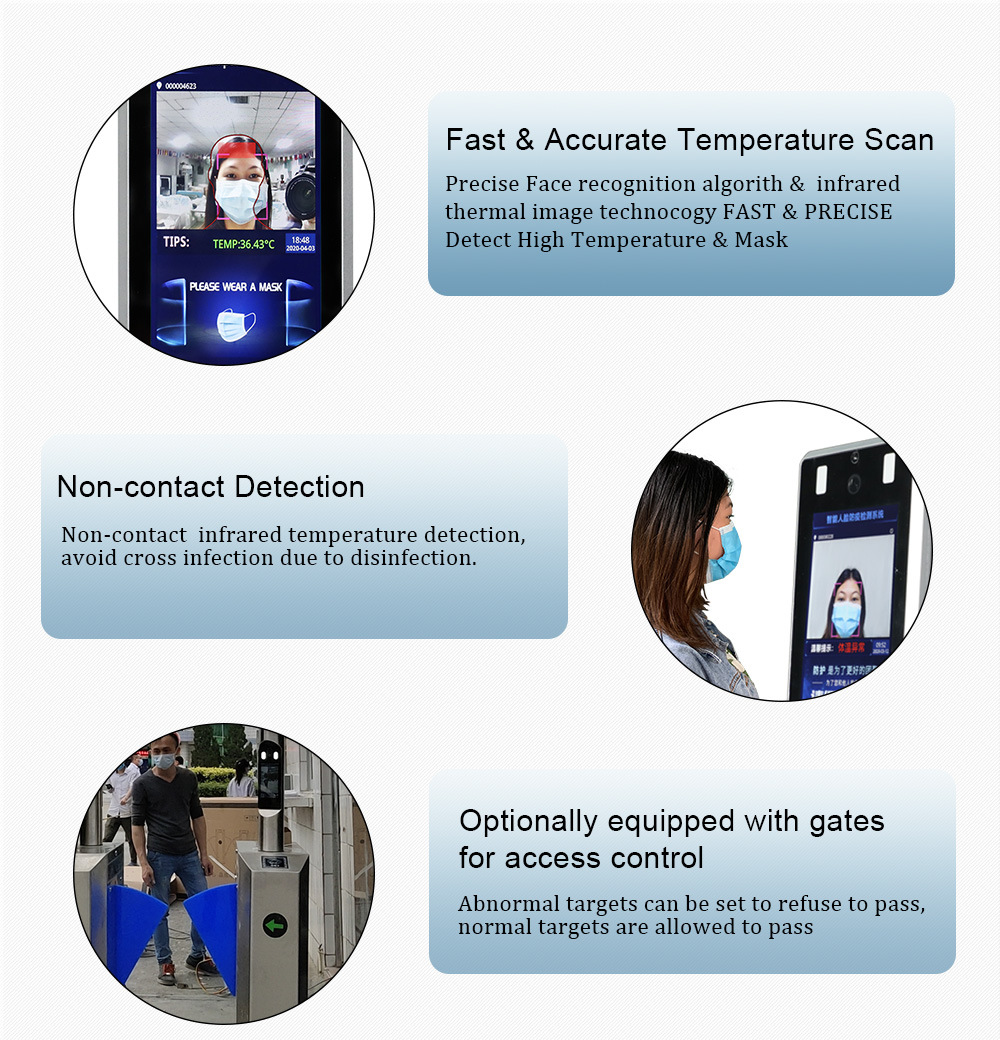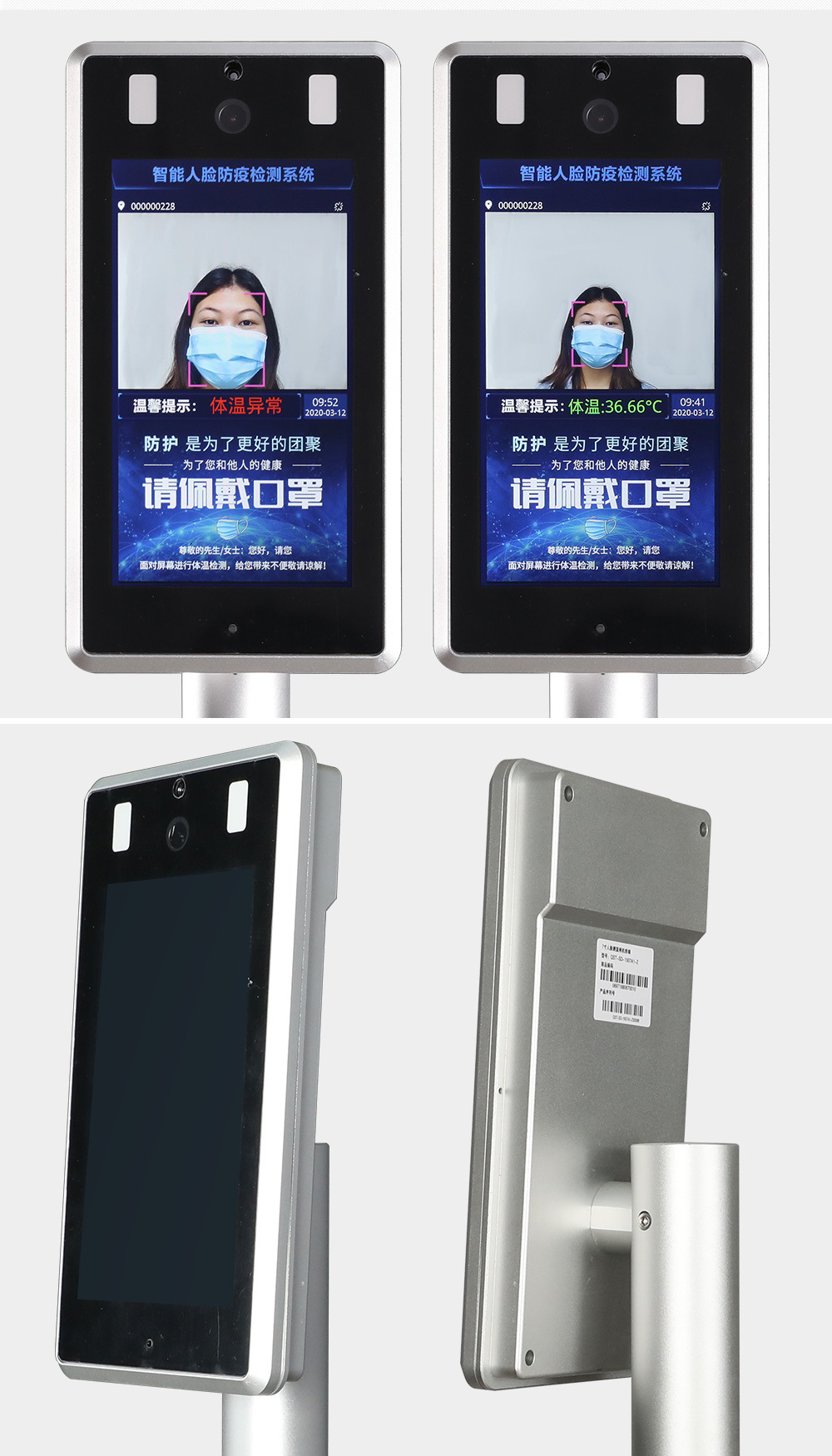 | | |
| --- | --- |
| Operating system | Embedded LINUX |
| memory | DDR38GB storage |
| capacity | built-in 8GB standard, another 128GB screen can be expanded by TF card |
| display | 7 "high-definition IPS display |
| monocular camera | 200W, 120 degree wide-angle lens, supports wide dynamic, white light night vision |
| Open the door | support face recognition |
| Door opening time | <0.3 seconds (30,000 library) |
| Face recognition rate | 99.8% |
| Minimum increment | face recognition supports the smallest face interpupillary distance 20 pixels |
| face base library capacity | maximum support 50,000 |
| Black and white list function | support |
| Network | 1 RJ45100M Ethernet port |
| Communication mode | Support TCP / IP wired communication |
| Power supply | DC9-18V / 3A, 4W |
| Working temperature | -35 ºC ~ 75 ºC |
| Installation characteristics | supporting gate / speed gate installation and use |
| customized services | appearance can be customized, and customization needs to charge temperature measurement module parameters |
| Temperature measurement distance | <1m |
| Best distance | 0.5-0.8 meters |
| Temperature measurement accuracy | ± 0.3 |
| Temperature measurement range | -40-85 ºC |
| Effective emissivity | 0.97 ± 0.02 Wavelength |
| size | 5.5-14UM |
| Corresponding time | <1 second |
This device is specially designed to improve the safety of the environment. It combines many advanced technologies such as face recognition (normal recognition when wearing a mask), mask wearing discrimination, ambient temperature detection, and human temperature detection. The product has lower heat generation and more stable system operation. It is suitable for parks, communities, communities, campuses and other scenarios.
This device can work independently and locally
Industrial chip platform and system
• Use Hisilicon chip, mini version of Linux, high stability
• Low power consumption (down to 4W)
• Support for multiple types of shells, custom appearance
High-precision face recognition algorithm
• Embedded algorithm, millisecond comparison
• Accurate monocular live detection, safe and efficient
• Accuracy rate of 99.8% within 50,000 of N library
Multi-scene image exposure and correction algorithm
Support temperature measurement, display, high temperature warning
Support temperature interface protocol
Support mask reminder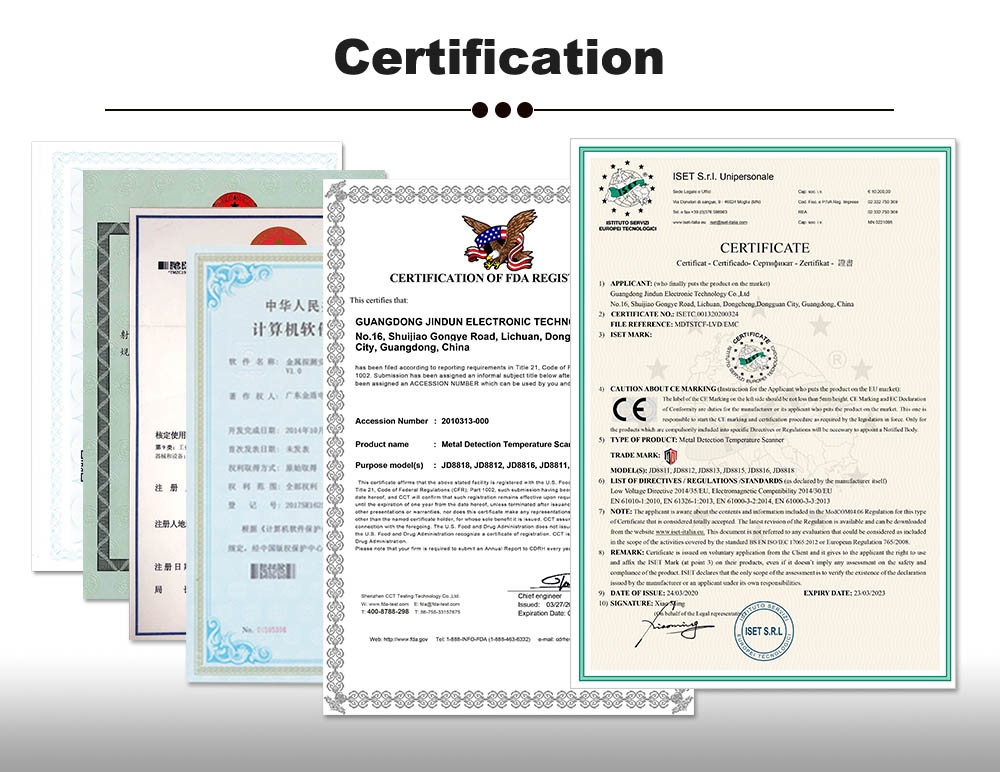 JINDUN manufactures quality control equipment that inspects and detect physical foreign objects & control weighing. We keep your products safe & standard, and protect your brands! JINDUN-DETECT AND INSPECTION TECHNOLOGY FOR QUALITY CONTROL
we are your reliable partner in quality control and security inspection!
Based on Dongguan, a major manufacturing hub in China, Jindun is a global manufacturer of quality control and security machine for the food, packaging, pharmaceutic, textile, rubber, and other industries, principally offer conveyor belt metal detectors, check Weigher, grader, combination system, X-ray inspection system, needle detector, metal separator, walk through metal detector, X-ray security inspection, and handheld metal detector.
-We can help you develop and win more market share!
-Giving your best solution in sourcing metal detectors and X-Ray inspection, check weigher.
-Giving your best support on products perfect balance performance and cost
-Strong R&D team and strict QC system ensure the best quality
-High precision and reliable performance
-Most competitive price by actively seeking the best options and manage supply chain
-Large stock and quick delivery than our competitor
-1-year warranty and best after-sales service supported by our professional technicians
All JINDUN products go through design, engineering, and manufacturing process led by highly skilled and experienced engineers to manufacture high-quality, precise, intelligent and affordable quality control systems and security inspection.
We have been providing our customers with customized machines to their quality control and security needs for more than 17 years.
CE-certified products, our reputation is based on consistent quality and advanced technology, the result of continuous and far-reaching research and development. Rigorous quality standards ensure that we meet customer specifications each time, every time.
We are proud of our products and service. We are committed to ensuring quality control and security inspection by providing the best value to all our customers worldwide.